"Cloud detection and bases update will be unavailable" notification in Kaspersky Rescue Disk 18
Latest update: January 19, 2023
ID: 14240
If network connection is not configured for Kaspersky Rescue Disk, you may see the notification "Cloud detection and bases update will be unavailable".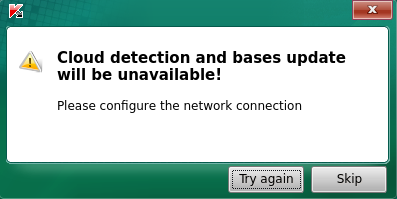 To fix the problem: 
Configure the network connection. For instructions, see this article.
Click Try again. 
Kaspersky Rescue Disk will work correctly. Cloud detection and database update will be available.