How to control the installation of applications with the Application Manager in Kaspersky Internet Security 2018
Latest update: December 15, 2017
ID: 13625
If your homepage or search engine changes without your noticing and ad banners start appearing on websites, it might mean that adware has been installed on your computer. This can happen if you missed a check box while installing an application and accidentally agreed to install another application, or else granted permission to change your browser's settings (homepage or default search engine). Such actions are common among malicious programs.
The Application Manager feature of Kaspersky Internet Security 2018 detects and blocks such changes.
To find and remove applications that have been secretly installed on your computer, run the analysis of installed applications.  
Watch the video about how to control the installation of applications with Kaspersky Internet Security 2018 at the end of article.
How to block changes to operating system and browser settings
In the main window of Kaspersky Internet Security 2018, click the gear button .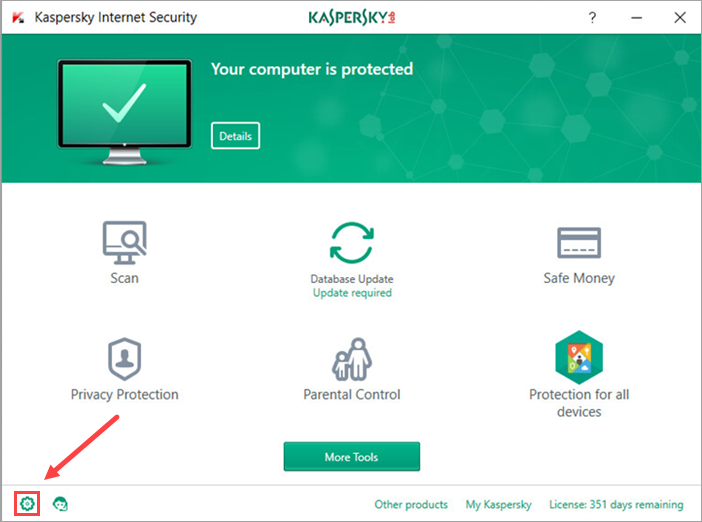 If you have problems opening the application window, see this guide.
In the Settings window, go to the Protection section and select Application Manager in the right frame.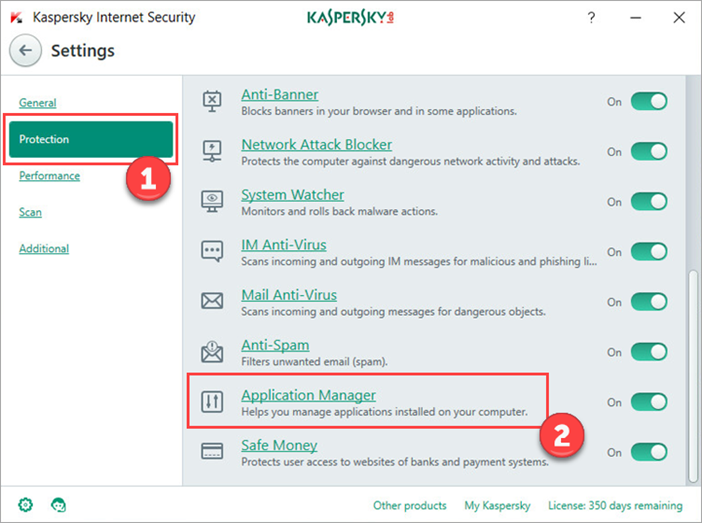 In the Application Manager settings window, move the toggle to the right to enable the component. You will start receiving notifications that will prompt you to allow or block the installation of an application or changes to the browser settings.
Select the check box Block changes automatically. If you select this check box, you will not receive notifications. Kaspersky Internet Security 2018 will block unwanted changes automatically.
Check the boxes in the Installation Assistant section.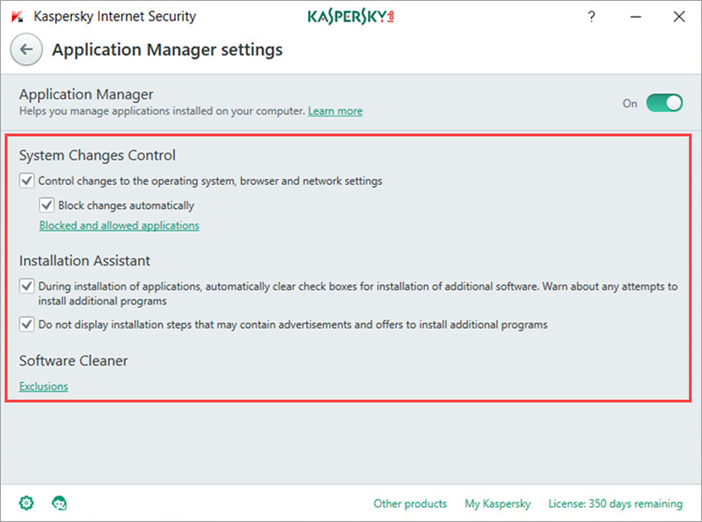 Restrictions and limitations
Application Manager only works with System Watcher component enabled. It is compatible with Internet Explorer, Mozilla Firefox, Google Chrome.
The component detects and blocks changes to the browser settings, homepage, and search engine, changes to proxy server settings, installation of plugins, extensions, and toolbars.
The default set of controlled changes can be extended when updating the Kaspersky Internet Security 2018 databases.
The component does not block changes or display notifications if the changes are made by the following applications:
Browser

Default browser settings changing tool

Windows tools

An application incompatible with Kaspersky Internet Security

A newer version of Kaspersky Internet Security
Installation Assistant is unavailable on dynamic drives.