How to update the databases in Kaspersky Internet Security 20 for Mac
Latest update: September 14, 2023
ID: 15186
You can only update the application databases if you have an active license and are connected to the Internet.
By default, a database update is started as soon as you have installed the application. After that, the databases will be updated at optimal intervals.
You can also run a database update manually. See below for instructions.
How to update the databases manually
To update databases of Kaspersky Internet Security for Mac, use one of the following methods:
Via the application's shortcut menu. In the top right corner of the screen, click → Update.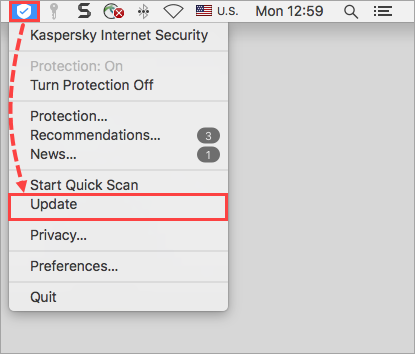 Through the main application window:

Click Update in the main application window.




Click Update.




Via My Kaspersky. See this article for instructions.
 The Kaspersky Internet Security for Mac databases will be updated.
Update scope
The following files are downloaded and installed on your computer during an update:
Anti-virus databases. These databases contain threat descriptions and methods used to combat them.
Application modules. These modules close application vulnerabilities, enhance existing functions and add new ones.
New application versions. By default, the application downloads and installs new versions of Kaspersky Internet Security for Mac automatically. If you experience any issues while upgrading the application, download the new version from the Kaspersky Lab website and install it manually.
What to do in case of update issues