Error "You do not have enough rights to perform this operation"
Latest update: July 13, 2023
ID: 11002
If you receive the error "You do not have enough rights to perform this operation" when installing a Kaspersky application, it means that your user account does not have local administrator rights.
Solution
Log in to the system under an administrator account so that you are able to install applications and access all files on the computer.
Run the installation as an administrator: right-click the installer file and select Run as administrator on the shortcut menu.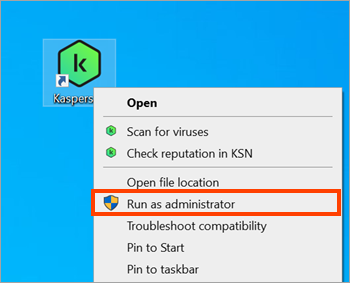 What to do if the issue persists
If you are sure that your user account has administrator rights but the issue persists, contact Kaspersky Customer Service.