How to get trace files for Kaspersky Safe Kids for Windows
Latest update: February 27, 2023
ID: 13191
In order to process requests, Kaspersky Customer Service may require reports on how the application's components are functioning. These reports are called trace files. 
We do not recommended following the instructions below without first consulting a Customer Service specialist. If enabled accidentally, tracing can lead to disk space shortage.
How to get trace files
In the lower-right corner of the Desktop, click .
Right-click on the icon and select Settings from the shortcut menu.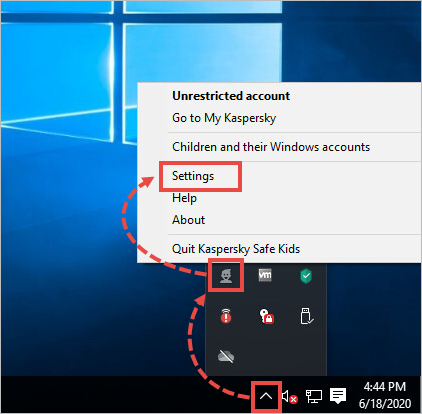 Enter your My Kaspersky account details.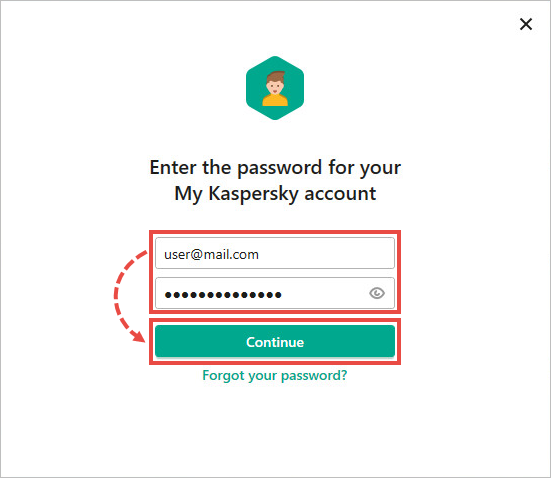 Go to the Log events section.
Select the Log application events checkbox.
Read through the Technical Support Statement carefully. Select the checkbox if you agree to the terms.
Click Save.
In the lower-right corner of the Desktop, click .
Right-click and select Quit Kaspersky Safe Kids.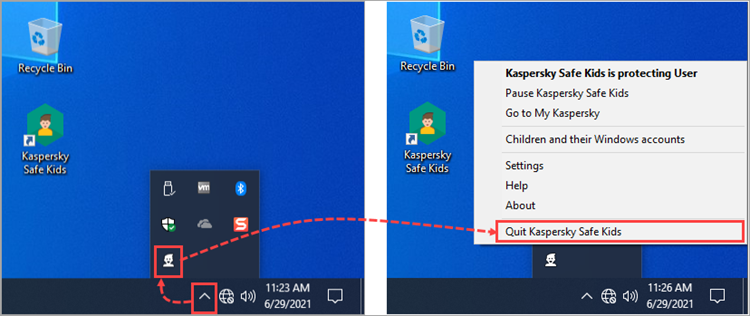 Sign in to your My Kaspersky account.
Run Kaspersky Safe Kids again. To do so, double-click the application icon on your Desktop.
Reproduce the issue.
Trace files have been created. Send them to Kaspersky Customer Service and disable tracing. See the instructions below.
How to locate and send the trace files to Kaspersky Customer Service
The application saves trace files in the LOG format with unique names: [Product name]_[Product version]_[Date of creation]_[Time of creation]_[Random characters]_[Tracing type]_[Encryption type].
For example: SAFEKIDS.1.0.5.6123e_05.18_22.32_4180.GUI 
To locate the trace files that have been generated:
Press Win + E on your keyboard.
In the address bar of Windows Explorer, enter: %ALLUSERSPROFILE%\Kaspersky Lab\ 
Press Enter on the keyboard.
Go to Kaspersky Safe Kids (product version) → Logs. The folder containing the trace files is now open.
Copy the files to a separate folder.
Contact
Kaspersky Customer Service by choosing the topic and filling out the form. Attach the trace files to your request. 
How to disable tracing
When tracing is disabled, the generated tracing files are automatically deleted from
the folder %ALLUSERSPROFILE%\Kaspersky Lab\
Before disabling tracing, make sure that you have copied the files.
In the lower right corner of the screen, click .
In the context menu of the icon  click Settings.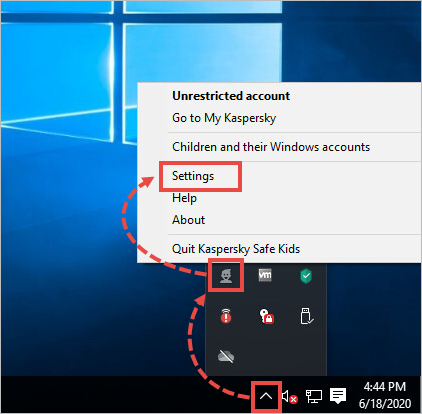 Enter your My Kaspersky account details.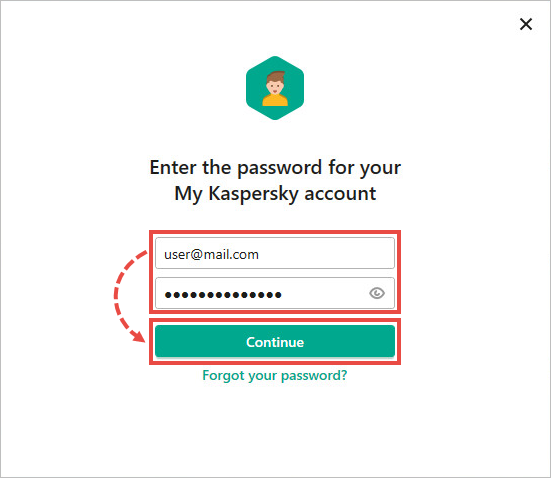 Go to Log events.
Clear the checkbox Log application events.
Click Save.
Tracing is now disabled.