How to get Kaspersky VPN Secure Connection trace files and send them to Customer Service
Latest update: July 12, 2023
ID: 14544
Get more traffic in the extended version of Kaspersky VPN Secure Connection
Advantages of the extended version of Kaspersky VPN Secure Connection:
Unlimited traffic.
You can select a connection area.
Kaspersky Customer Service engineers might request reports on the activity of the application's components. These are called trace files.
We do not recommended following the instructions in this article without first consulting with a support engineer. If enabled accidentally, trace collection may account for disk space shortage.
How to get trace files
In the main application window, click .
In the Support Tools window, click Open.
In the Traces section, select the type of events to trace. The Customer Service engineer will tell you which type to select.

Errors
Important
Recommended
All
If the engineer did not specify which events to trace, leave the type as Recommended.
To enable tracing, switch the toggle to the "on" position.
Reboot the computer.
Reproduce the problem.
To disable tracing, switch the toggle to the "off" position.
Close the application.
Trace files have been created.
How to locate trace files
The application saves trace files with unique names, in the LOG format: [Shortened application name]_[Application version]_[Date of creation]_[Time of creation]_[Random characters]_[Tracing type]_[Encryption type].
For example, KSDE.21.3.10.391_03.04_17.43_5084.SRV.log 
To locate trace files:
Enable the Show hidden files and folders function. See this article for instructions.
Press Win+E combination on your keyboard.
In the address bar of Windows File Explorer, enter: %ALLUSERSPROFILE%\Kaspersky Lab\KSDE5.3\Traces
Press Enter on the keyboard.
The Traces folder containing the trace files will open.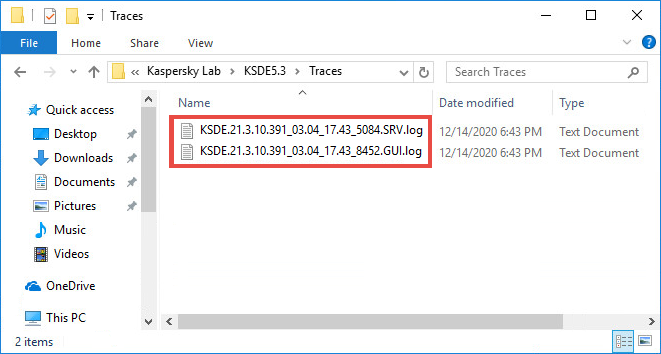 How to send a report about an issue to Customer Service
In the main application window, click .
In the Support Tools window, click Open.
Click Send report to Technical Support.
Select the Operating system information and Data received for analysis checkboxes.
Enter the identification number that was assigned to your request in My Kaspersky and click Send report.
Wait until the report is uploaded to the server.
The report with trace files will be sent. 
If you cannot send the report right now (for instance, you have no Internet connection), save it to your computer by clicking Save report. You can contact Kaspersky Customer Service at a more convenient time by choosing the topic and filling out the form. Please attach the saved report to your request.