AVZ computer scanning tool
Latest update: October 15, 2021
ID: 14612
Download AVZ
AVZ is a free tool for scanning your computer and running a script that quarantines or deletes files that are considered suspicious.
You can download latest versions of Kaspersky applications for home from this page.
Kaspersky Lab technical support may request that you run the AVZ tool.
Using the AVZ tool, you can:
Get a report on system analysis results.
Run a script provided by technical support for quarantining files and deleting any suspicious objects.
The AVZ tool does not send out statistics, nor does it process data or transfer it to Kaspersky Lab. The report is saved on the computer as read-only HTML or XML files. These files cannot be used by specialized applications.
The tool is able to automatically create a Quarantine and move copies of suspicious files to it, along with their metadata.
Objects moved to Quarantine are stored on the computer. They are not processed or transferred to Kaspersky Lab. We do not recommend that you restore files from Quarantine as they may harm your computer.
Data contained in the AVZ tool report
A report created by the AVZ tool contains:
Information about the AVZ tool's version and release date.
Information about the AVZ tool's main configurations and anti-virus databases.
Information about the operating system and its installation date, as well as the privileges of the user who ran the tool.
Search results for rootkits and applications that intercept basic operating system functions.
Search results for suspicious processes, along with information about them.
Search results for common malware, based on its characteristic properties.
Information about any errors found during the scan.
Search results for applications that log keyboard, mouse or window events.
Search results for open TCP and UDP ports being used by malware.
Information about suspicious keys in the system registry, names of files on the disk, and system settings.
Search results for potential vulnerabilities and operating system security issues.
Information about damaged operating system settings.
How to run a script using the AVZ tool
Only use the AVZ under the guidance of a Kaspersky Lab technical support specialist in relation to your particular issue. Unassisted use may lead to operating system damage and data loss.
Download the AVZ archive.
Extract the file and run avz5.exe on your computer. If the Windows Defender SmartScreen prevented avz5.exe from launching, in the Windows protected your PC window, click More info → Run anyway.
Click File → Custom scripts.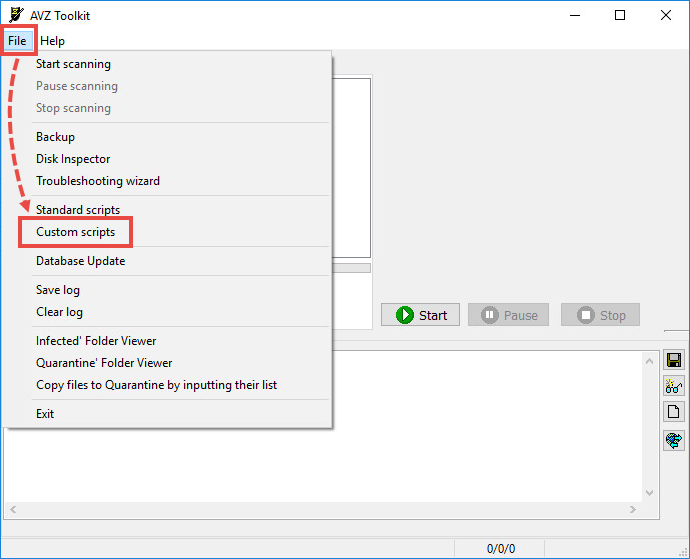 In the input field, enter the script you received from the Kaspersky Lab technical support specialist.
Click Run.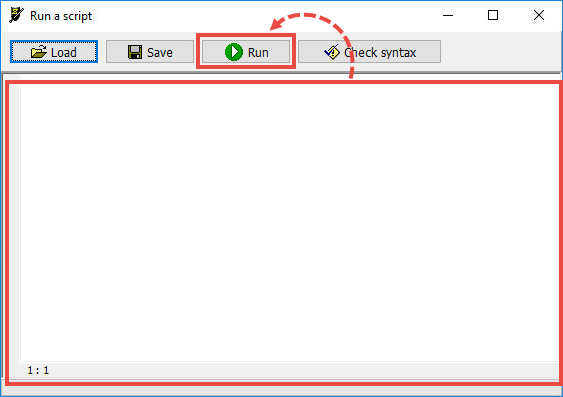 Wait until the tool has finished running and complete the rest of the Kaspersky Lab technical support specialist's instructions.