How to get dump files of AVP.EXE process for a Kaspersky application
Latest update: April 07, 2023
ID: 8006
This article concerns:
Kaspersky Anti-Virus
Kaspersky Internet Security
Kaspersky Total Security
Kaspersky Security Cloud
Kaspersky Small Office Security
Kaspersky Secure Connection
Kaspersky Endpoint Security 12.0 for Windows (version 12.0.0.465)
After installing a Kaspersky application, you may encounter certain malfunctions. One of the possible reasons is the conflict between the Kaspersky application and another software or driver installed on your PC.
If the AVP.EXE process dump file was not created automatically, you can get it manually following the instructions below. To do so:
Download the kavlog.zip archive with the kavlog tool for creating AVP.EXE process dumps and extract the files from it.
Run the kavlog tool.
Select the application from the drop-down list.
Reproduce the problem with your Kaspersky application.
Click Create dump.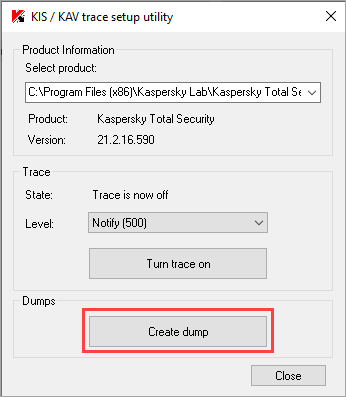 The dump file will be created in the folder C:\ProgramData\Kaspersky Lab\AVPXXX\Traces. The folder will open automatically upon dump creation. The dump may consist of one or several *.dmp files with the size greater than 0.

Zip the AVP.EXE process dump files to the archive. For instructions, see this article.
If the issue persists, submit a request to Kaspersky Customer Service by choosing the topic of your request. Attach the created archive to your request.