Kaspersky SD-WAN is used to build Software-Defined Wide Area Networks (SD-WAN) for routing traffic over communication channels using Software Defined Networking (SDN) technology. The main advantage of such networks is the ability to automatically determine the most efficient routes for the traffic.
The SDN technology implies the separation of the control plane and the data plane. The control plane comprises an SD-WAN Controller and an orchestrator. The control plane controls the transmission of traffic packets over the network through Customer Premise Equipment devices (hereinafter referred to as CPE devices or CPEs) that are installed at client locations and together form the data plane. Alternatively, the network can be controlled via the API.
Network Function Virtualization (NFV) is performed in accordance with the standards set out in the NFV MANO (NFV Management and Network Orchestration) specification of the European Telecommunications Standards Institute (ETSI).
The solution is intended for service providers, as well as organizations with a large branch network, and replaces standard routers in wide area networks. The deployment procedure is independent of particular transport technologies used on your network. The solution also supports sending traffic over multiple links based on application requirements regarding bandwidth and quality of service.
Kaspersky SD-WAN lets you do the following:
Smart traffic control.
Automatic configuration of CPE devices. This functionality makes deployment of devices on location less personnel-intensive.
Centralized management of the network infrastructure through the orchestrator web interface. For example, you can use the orchestrator web interface to configure CPE devices and links.
Continuous monitoring of the network topology and automatically responding to any changes. For example, you can configure the traffic to be switched to a backup link in case the main link fails.
Automatic response of the network to changes in the quality of service of communication channels to meet the requirements of various applications used on the network.
The figure below shows a diagram of an SD-WAN network built using the Kaspersky SD-WAN solution.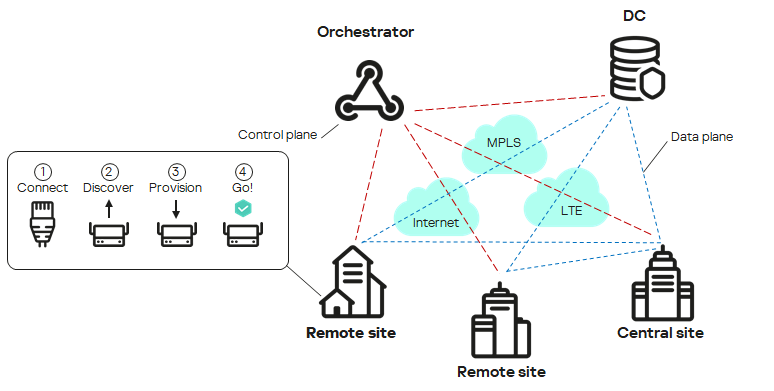 SD-WAN network diagram
Did you find this article helpful?
Thank you for your feedback! You're helping us improve.
Thank you for your feedback! You're helping us improve.